This Past weekend I had the opportunity to brunch it with some incredible individuals at Andiron Steak house for an event my love @JNELV was hosting . The food was amazing the drinks were divine but the company and energy was unreal . it's really special meeting such driven like minded people that are humble, open and honest . this industry can sometimes be so competitive and cold so coming across such people is really rare and rewarding . after the brunch we headed down to Redrock canyon to shoot a couple looks . because what kind of bloggers wouldn't do such a thing on such a nice beginning of the day ........it was almost mandatory . we went through the struggle of losing each other on the way due to no service in the mountains but that no way shape or form interfered with the shoot I mean my girl @Polydeux was climbing and hiking in heels just to get the shot ahah ! I want to thank the incredible @justinquebral for these amazing shots we suffered in the freezing cold weather but at least we survived and was willing to get these clean ass shots !
Blazer : Calvin Klein
Trousers : Ralph Lauren
Shoes : Air Max
Bag : ORIBAGU
9
Knyew 9 year Anniversary Hoodie
Ralph Lauren Pants
Dr Martens
C2H4 FW16 NO CHILL CAMPAIGN set 2
A big thanks to Lush Network and C2H4 for the threads !
Shot by : Cholotorta
C2H4 FW16 NO CHILL Campaign
It's seeming as if 2017 is going to be a good year . I have a lot lined up that I cant wait to share with you guys . to start the year off right I had the opportunity to collaborate with @lushnetwork and @c2h4 on their FW/16 collection . it's a pretty awesome feeling working with such a tight knit agency that trust in my vision . and of course as you guys may know I've worked with C2H4 on numerous campaigns hence the Vintage C2H4 archived bag , you can shop this NO CHILL collection on https://www.c2h4losangeles.com/collections/all or stop by the Lush Network showroom in LA
Shot By: CHOLOTORTA
Title- LESS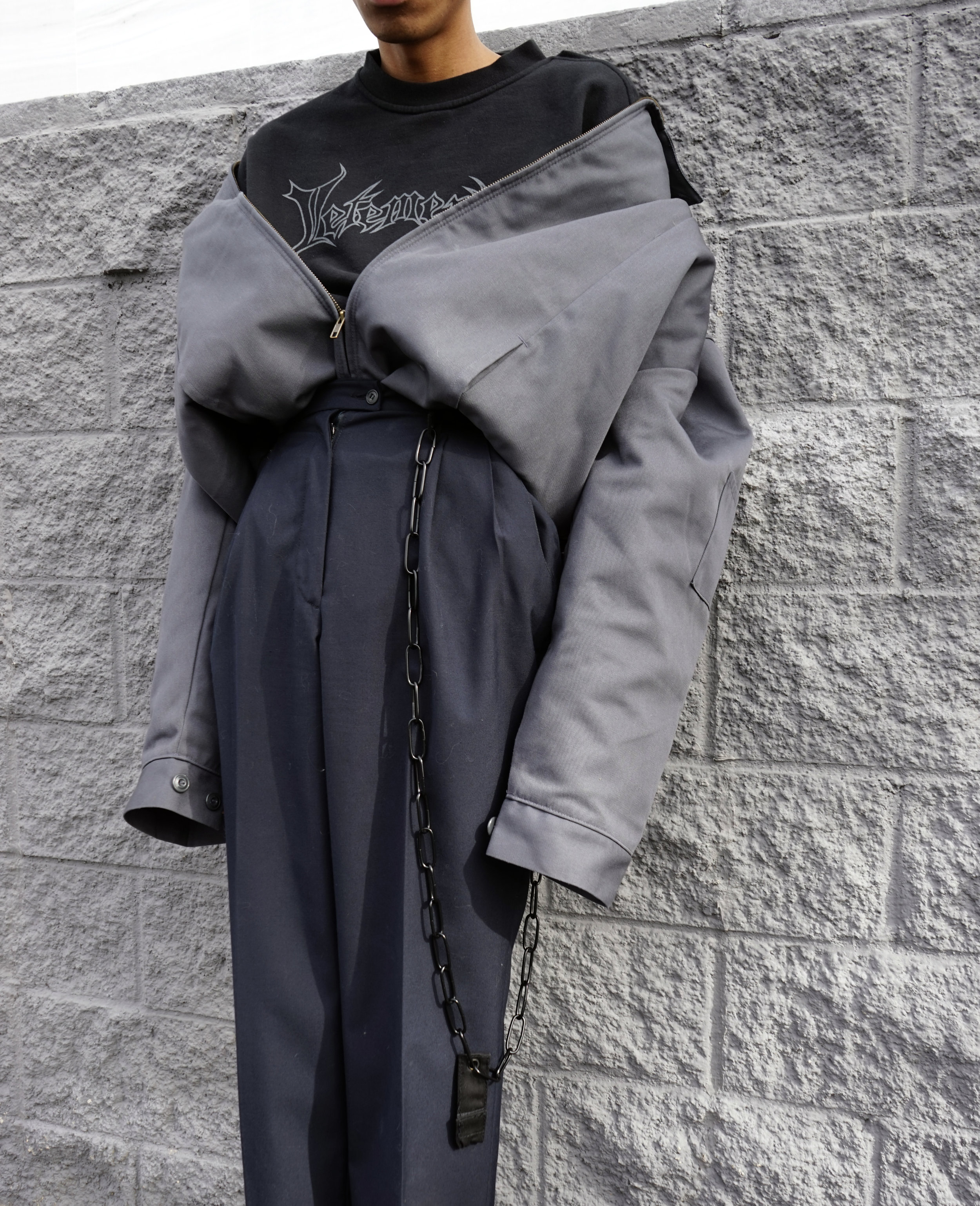 Cap : CCat.LOVEHoodie
Hoodie : Vetements
Coat : Red Cab
Trousers : thrifted
LAZY BOi
Kiss the Earth beneath you from which it has Birthed you
Champion White hoody
Thrifted Denim
Dickies Coat
Shot By : @yeahitsronald
@damnRoa
@sanjeekailey
#UOmens
UO+Champion Campaign
A big thank you to the #UOmens team for the COZY winter threads . super excited to show you guys whats next .
Shot By : Damroa
Nana Judy Mirage collection
A big thanks to cbyloredanapinasco for my new favorite hoodie !
you can cop this HEALING HUMAN SOUL hoodie on https://cbyloredanapinasco.com/en/
3 stripes
I found it oddly amazing seeing Fila hit the store earlier this week because I Grew up in Fila from head to toe in there sweat suits and sneakers . I can still go through the crazy amounts of baby pictures my mom has of me as a baby and see myself dipped in Fila Gear , So there was no surprise of me shooting in this look . this hoodie has definitely been a go to seeing as we're hitting the peak of fall and gradually falling into winter . it has to be the best transitioning season piece in my closet . shop this whole look on www.urbanoutfitters.com or just click the links below . be sure to follow @UOLASVEGAS for my latest UO Editorials .
Fila Color-blocked Hoodie Sweatshirt
Fila + UO Stripe Track Pant
New Balance sneakers
Photography : @de.roa
Urban Outfitters Fall Favorites
Adidas Track pants
Adidas Yellow Gazells
Thrifted rain coat
Shot by the amazing @Jasleon
COZY
@knyew Trench
@Authntc tee
Reebok Classics
Thrifted sweats
Fall Basics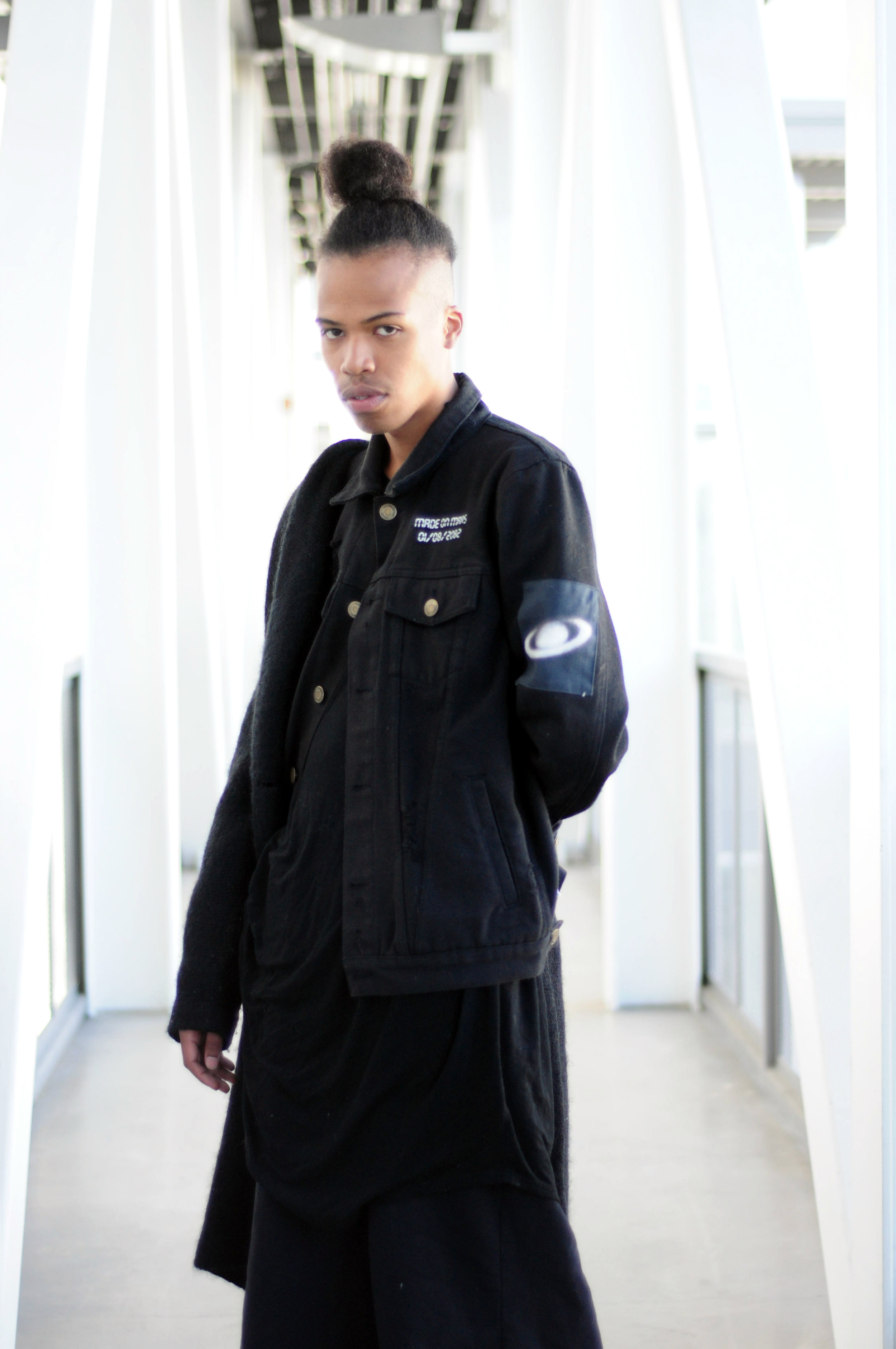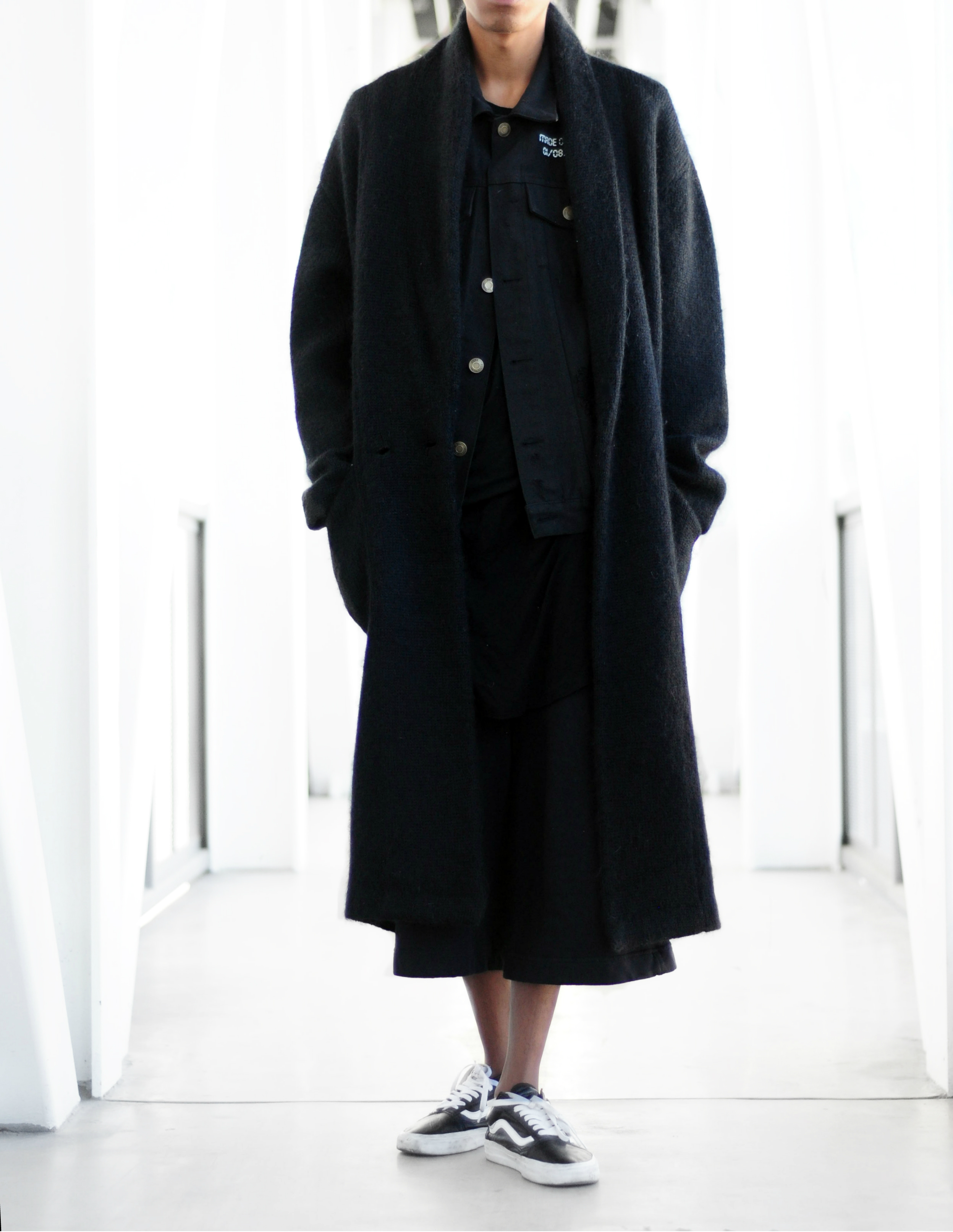 Sweater : thrifted
Pants : DIY
Shoes : Chuck Taylors
3 Day Green Juice Cleanse
Periodically throughout the year I think its very imperative to indulge in taking a 3 day green juice cleanses . in the past I have done a full week of a green juice cleanse but I'm a very small guy so it doesn't exactly take a week to cleanse my system . So I stopped doing weeks and started doing 3 day cleanse . by taking these cleanse I almost feel like a snake shedding it's old skin , I feel so refreshed energized , my skin is clear . and my senses are insanely heightened . I do have a recipe and plan for the 3 day cleanse . if you are interested in joining please email grizzellegrizzelle@yahoo.com
Contemporary Happiness
Shirt by @Authntc
Denim : @representclo
Coat: thrifted
Vegan Cookies and Cream!
This Recipe is so simple and has been a favorite of mine . I recently found out the Oreo's are actually VEGAN! this whole time I thought that there had to be some kind of dairy product in the cookies but as soon as I found out it didn't I immediately had to incorporate it into a recipe .
What you'll need
5 frozen bananas
1 cup of coconut milk
As many oreos as you'd like
Instead of blending it all together I suggest blending the bananas and coconut milk first and then proceeding by smashing the oreos and mixing together . if you choose to blend all the ingredients all together you'll just be left with nice cream and no crunch .
Knit Season
Knit by Nana Judy . More work and collabs coming your way with them
Vanilla Bean Frappuccino Nice Cream
Growing up I used to always love taking trips to starbucks just to get the Vanilla bean frappacino with extra caramel for drizzle . but seeing as now I'm a vegan I thought it was only right to give it a try by veganizing it without including milk or any non vegan products . what really made me not want to eat at starbucks anymore is there association to not wanting to label non GMO products and plus who wants to pay that much for a small drink when you can make a whole Quart jar at home to pig out on .
What you'll need
5 frozen bananas
2 vanilla beans
2 tbsp of ground cinnamon
for the Caramel I put Brown sugar , cane sugar , salt ,and almond milk in a pot on low with 1 stick of vegan butter until it was a thick creamy consistency
throw in a bowl or mason jar if on the go and you have some bomb Vanilla bean Frappacino Nice cream
Solitude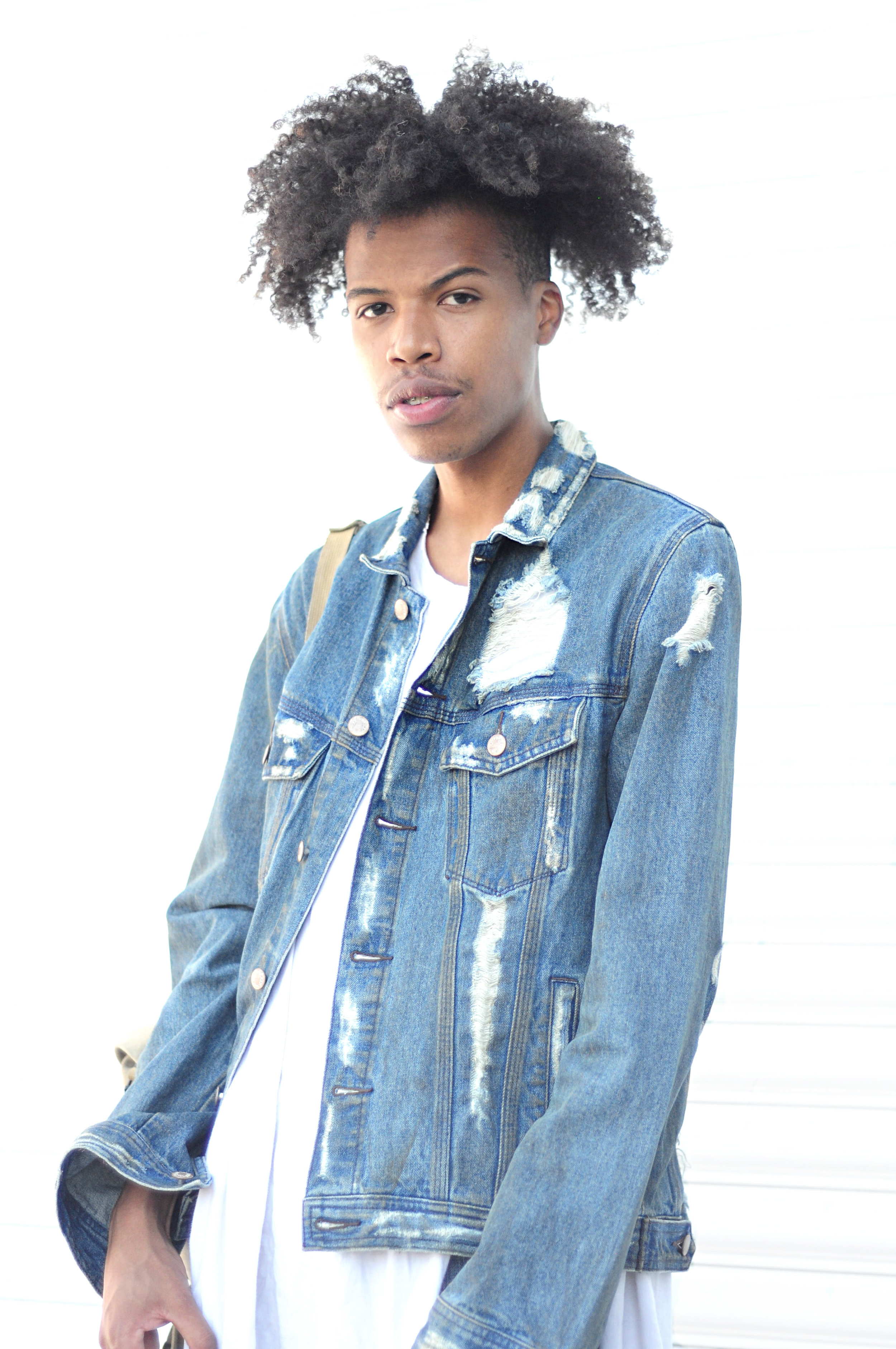 Thanks @nanajudy for the dope distressed denim jacket
Virgin Strawberry Pineapple Daiquiri
Before Leaving to LA I left this photo up without a description aha . So I decided to share this little recipe I made that myself and my family loved during my visit . before I get into this recipe there was so alcohol added to this Daiquiri . hints the " VIRGIN" in the description . To start this recipe I froze 8 bananas and left them over night followed with a crate of Strawberries and Half of a pineapple . The following day I blended all ingredients separately with a few splashes of lemon juice and stacked the flavors in a mason jar . The important tip for the strawberry layer is to add more strawberries than bananas ! to top this beauty I made a strawberry syrup with agave and mashed strawberries and added some coconut shaving mmmmm enjoy !
Mango Salsa BLT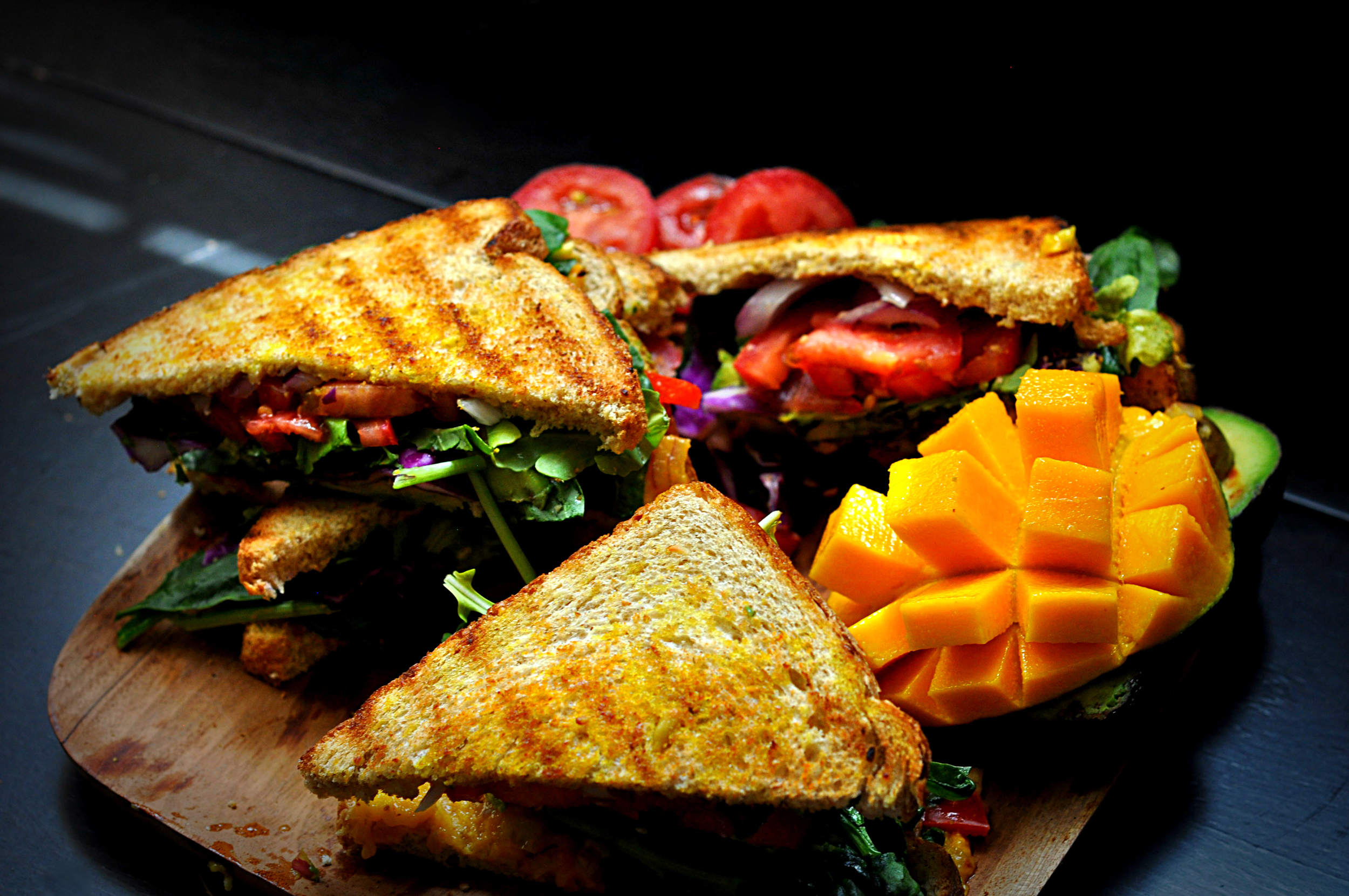 No worries guys there is no way in hell I added Bacon to this BLT Actually the B stands for Beet ahah . for lunch I usually eat Zucchini Pasta or some sort of whole wheat Gluten free sandwich . so why not share with you guys since I've been posting so often . truthfully I've never been very fond of the idea of Mango in salsas just because I like salty salsas but I decided to try it out today by adding bell peppers red onions and garlic and wow I'm obsessed ! I also added arugula , spinach , tomato , red cabbage , beets ,avocado and red onions . I'm so stuffed after eating this but now looking at this photo I want to make more ! to be honest photographing this was so impossible and frustrating but I decided to share anyways aha
Happy National NICE cream day !
So I was just informed by @wholefoods that today is national Ice cream day ! so how do we vegans celebrate ? with Nice Cream of course , now if you're new to this we call this nice cream because there was no dairy needed to make this epic cacao coco nut nice cream . which means no animals were harmed in the process of making such a delicious summer treat . I hope this inspires you guys to stray away from some dairy products as its terrible for our health and from experience causes excessive mucus build up in our bodies
This Nice cream has to be my recent favorite because it taste just like an almond joy ! Hope you guys enjoy it . there are so many different ways to make nice cream but this time around I came up with a different method I didn't freeze my bananas over night instead I blended all my unfrozen bananas and added my ingredients and let it sit in the freezer over night almost as if I'm letting all the ingredients marinate . Then I took it out the freezer the next morning and decided to blend it all over . I just think it helps with the consistency personally
What You'll Need
5 Bananas
3 table spoons of cacao powder
1 cup of Fresh coconut water
1 bowl of Frozen coconut skin
1 cup of almonds
3 dates for a sweetener
2 Table spoons of Organic Peanut butter
I decided to add a little cinnamon , Coconut shavings and some oats for a Topping . Grab a spoon because this is AMAZING.
Rainbow Sherbet !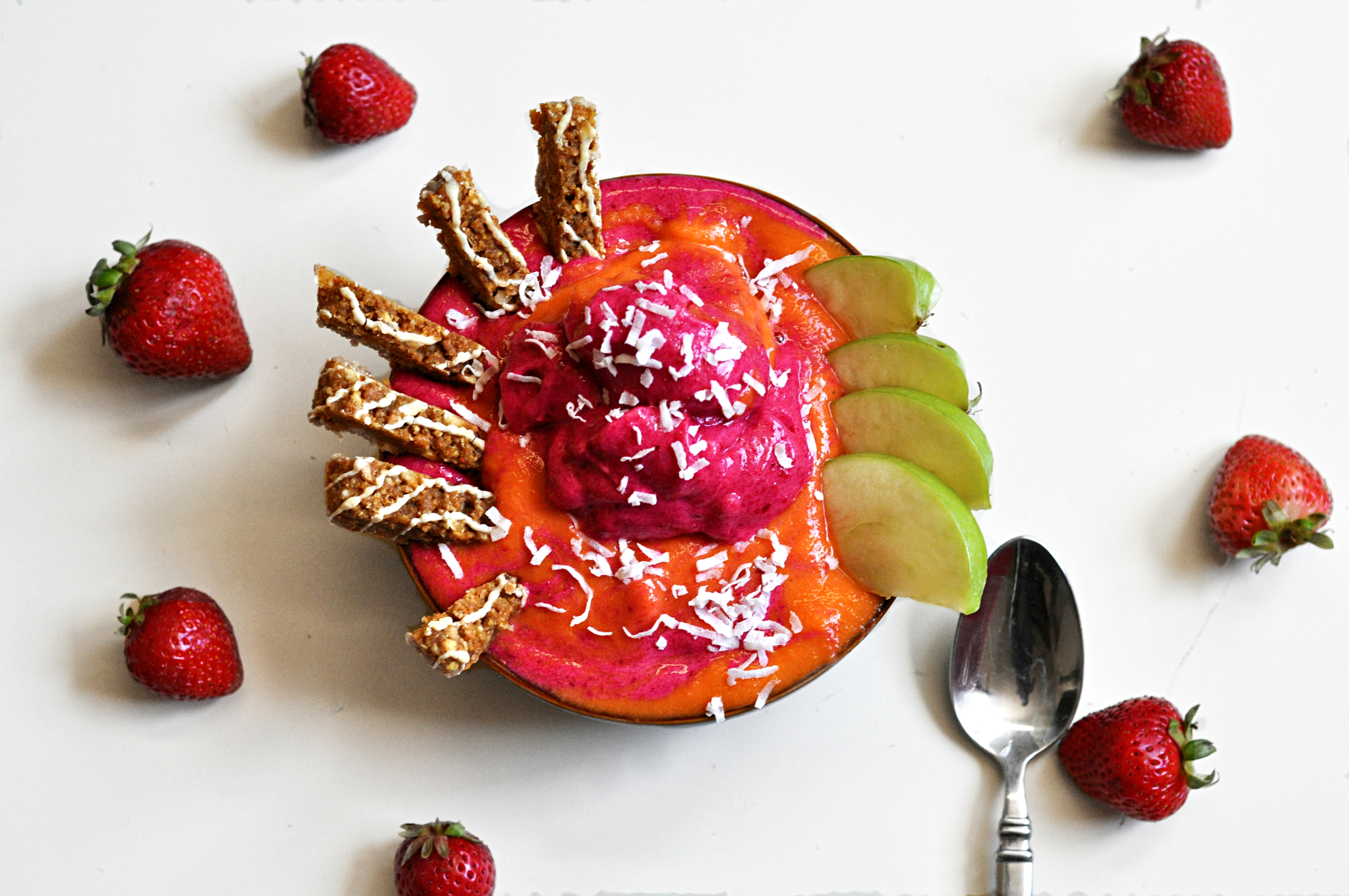 Good Morning Everyone ! you guys ready for something tropical ? for breakfast I came up with this vegan Rainbow Sherbet . It's very simple to make and I'm pretty sure you already have all the ingredients already in your kitchen .
What you'll need
Pink layer
3 frozen bananas
half of a beet root
lime juice
Orange layer
2 frozen bananas
4 carrots
1 Large orange
3 tbsp of maple syrup
Blend really well and let sit in freezer for an hour , when ready take out of the freezer and mix with a toothpick and add whatever toppings you like . I kept it simple and added a Cliff protein bar , coconut shavings and green apple slices
Zucchini Curry Pasta
Out of all spices I have I would have to say curry is my favorite ! I literally add it to everything . there is just something about it that's had me hooked for years . today I had a crazy craving for some curry so I decided I'd add it to my zucchini pasta thanks to my girl @fullyrawkristina for the inspiration . this is my variation on her take on curry zoodles . the sauce is so addicting I made extra for a dip for my bell pepper slices :)
How to make Curry Zoodles
For the sauce you'll need
1 can of coconut milk
3 table spoons of tumeric
5 Table spoons of Curry powder
1 Clove of Garlic
Handful of pine nuts
1 Avocado
For the Zoodles
2 Zucchinis
2 table spoons of olive oil
Garlic powder
Hope you guys will try out this quick and easy recipe ! Love and Light
Two Layer Smoothie bowl
Today is the 4th of July and of course its way to hot to cook or sit outside in the blazing sun to try a grilled vegan meal so I thought I'd keep it simple and make this delicious Zucchini pasta . I LOVE PASTA and usually it's my go to for a quick meal but for the past few weeks I've started to notice its very hard for my body to digest pasta takes a good bit of time to process through your system so I did a little research and ended up buying a Vegetable spiralizer. they are super easy to find and are very affordable . for this pasta I decided to go fully raw and make my own sauce .
What you'll need
3 Zucchinis
1 Organic avocado
1 cup of spinach
2 tbsp of Apple cider vinegar
1 tbsp of chili powder
Handful of pine nuts
Diced red onions
Nice Cream Bowl
Although I promised a dinner post I had to share with you guys this amazing Nice Cream bowl I created this morning . the consistency of this nice cream was perfect this time around and I think it had something to do with letting my bananas freeze for a good 8-10 hours . usually I'm so impatient and so excited to make my nice cream and find myself eating a late night Quart jar of it but last night I grubbed on a big bag of cherries so it gave my bananas time to freeze solid . for this particular nice cream I actually made two different flavors . for the purple layer I added 3 frozen bananas to my blender with a cup of black cherries and a cup of blueberries with a couple dates for a sweetener ( I also think added dates gives your nice cream a thick fluffy consistency) . For my yummy pink layer I added 3 more frozen bananas a cup of cherries and 2 cups of strawberries with a splash of coconut water to give my blades in my blender a helping hand . and lastley I added some of my favorite fruits and made these awesome stuffed strawberries which was stuffed with a banana chai concoction . grab a spoon because this is unbelievably good !
What I Eat In A Day
Hey Guys! so Today I was so inspired to do something that I've never Really Done before although I'm not a youtube guru I still thought. Sharing with you guys what I eat in a day as a Vegan would be pretty fun . Before I get into this little post I have to tell you guys I didn't add my dinner into this post . I usually eat raw throughout the day and end the day with a savory cooked meal so this is just my daily routine breakfast through lunch :)
Infused Water !
To start my day I always have an infused water prepared to drink as soon as I get out of bed and head to the kitchen . Infused water is so refreshing and helps flush toxins out of your body . I find this extremely important with starting your day to not only start it right but to rid of the foods that have been sitting in your body and digesting over night . Infused water also naturally helps foods move through your system making it a go to before eating foods that are harder to digest . Plus who doesn't love pretty water ;)
Green Juice !
Ok Continuing my day I usually make a green juice right after I gulp down all my infused water . I don't even know where to start with Green juice. If you follow me on Instagram or just know my in person . you would know I ALWAYS have a green juice on me ! now I wont go too deep into the benefits of green juice because I have a previous post on my site dedicated to green juice and the benefits of it . so be sure to check it out ! but this particular green juice has Kale , Tuscan kale ,1 Lemon , 2 Green apples , Ginger , Celery and coconut water
Nice Cream/Smoothie !
About this time my body is craving something fulfilling and delicious so (Lately) I've been addicted to Nice Cream . A lot of vegans call it nice cream because its 100% dairy free and you can eat as much as you want without feeling guilty haha ! I just recently purchased a new blender for a reasonable price so Smoothies and Nice Cream have literally become a ritual of my everyday life .its Very simple to make all you will need is 4 Frozen bananas (chopped) 2 Perfectly ripe mangos some vanilla extract , and some Organic Granola and bow you have a delicious lunch to snack on .( I usually eat it out of a BPA free mason jar if I'm on the go ) I really hope this post was helpful for you guys ! my next few post will be cooked food . I PROMISE ;)
Love and Light !
Over Night Vegan Oats
So Lately I've been taking a break on my juices ! Crazy right ! . Well it's pretty great to be able to binge on juices throughout the day but its not so great when I see myself loosing weight . So I put the juicer in my kitchen cabinet for awhile and decided to bring down my blender ! I've been so addicted to smoothies and nice cream its not even funny . today I found out that oats are known to reduce blood pressure and whats more fulfilling than oats in the morning so this recipe was on my to do list . So I decided to come up with this triple layer oat jar for tomorrows breakfast . Guys this bad boy was so delicious and had me satisfied and fulfilled until lunch time and the best part is a stove wasn't needed !
1st Layer ( bottom) 3 Frozen bananas , A cup of pitted cherries , Raspberries
2nd Layer I soaked my oats in Almond coconut milk with a splash of vanilla extract
3rd Layer 2 frozen bananas , blackberries , Acai Berries and a splash of coconut water
Leave this baby in the fringe over night and your oats should be soft and ready to serve ...... No stove needed !
ENJOY !
Banana Mango Orange Sorbet !
If you follow me on Instagram you'd see I recently came up with this amazing Banana Mango Orange Sorbet and after posting I received a lot of questions on how exactly I made it without a blender ! well it's pretty damn simple that literally anyone came make it ! I first started by cutting up all my mangos , bananas , and oranges and placed all cut up fruits into a salad bowl, after doing so I began to smash down the fruits with a lettuce cutter which made it so easy for step two ! by now your fruit should be somewhat finely cut down into little bits and prepared for step 2 . Now this is where the fun comes in guys I grabbed my Mash potato smasher and began to smash and grind the fruit down til it was the consistency I preferred . And after that just throw the salad bowl in the freezer for half and hour and bam you have delicious Banana, Mango , Orange sorbet ! and guess what you didn't even need a Blender 1!
Quinoa Veggie Burritos
Ingredients
1 cup of Quinoa
1 Can of organic Black beans
1 avocado for guacamole
A head of Romaine Lettuce
Diced Tomatos
Tahini
Flour Tortillas !
DINNER IS SERVED
Fruit Salad Jar
Summer is right around the corner and Tropical drinks and salads are a must ! So today I decided to make a Yummy Vegan fruit salad jar. This was actually my entry for the bestofvegansaladjar contest that bestofvegan is hosting . But I had no choice but to share with you guys this recipe because its literally so delicious . to start this recipe out I had to make my Pineapple beet mango juice that I used as a dressing for the salad which I added half a pineapple a whole beet and a couple mango slices . this juice is so flavorful on its own but was definitely the icing on the cake for this salad . To continue I added strawberries , papaya, zesty lemonslices , Kale, Kiwis Blue berries some purple cabbage for crunch and a perfectly ripe mango. this will definitely be a staple tropical treat for this summer ! for more quick recipes make sure to follow me on Instagram : GRIZTRIZ
Loaded Sweet Potato
The past few days I've been non stop eating on fruit. All these seasonal fruits that we're getting in abundance around this time of the year has me so excited for summer surprisingly. With that said I haven't really had a savory fulfilling meal for a couple of days . So tonight I needed to plan something that was going to stuff this belly that had a great potion of protein . So what is more delicious and fulfilling than a loaded vegan potato . Not just any potato but a Sweet potato ( my favorite!) laid in a bed of spinach Cmon guys this is ridiculously soo good ! to start this recipe I simply threw a good size sweet potato in the over for a about 45minutes before it was tender and the juices of the potato were visible . while that was cooling I boiled some organic brown rice with lentils in a pot of curry water and steamed an onion and orange bell pepper over the pot of Lentils for extra flavor ! to finish off this dish I blended some chick peas with sun dried tomatoes for the hummus mmm hope you guys enjoy this dish !
What You'll need
. 1 sweet potato
.Organic Lentils and Brown rice
.Bowl of Spinach
.Chickpeas/sun dried tomatoes/ ( for Hummus)
.and of course Vegetables of your choice ! I added Bell pepper , Onion and Tomatoes topped with chia seeds ! mmm
This meal is so easy and under 30$ to last you two nights !
Pretty Patties!
Hey Guys ! so this morning after a yoga session I was randomly inspired by Sponge-bobs famous pretty patties that turned everyone's tongue in bikini bottom crazy colors . So I thought .. " hey wouldn't it be so dope if I can actually make Vegan pretty patties !" so What the hell I gave it an attempt. this Burger was so delicious and the Blackberry banana date buns were so thick and warm like fresh baked bread fresh out the oven and reminded me of banana nut bread ! and to finish it off I made this delicious apricot guava spread . To be honest I almost flipped a table trying to stack this bad boy ahah ! Hope you guys enjoy this recipe :)
What You'll need to make the buns !
.4 Bananas
.bag of pitted dates
.Black berries
. Chia Seeds
Be sure to blend and/or hand mash all ingredients together and leave in a dehydrator or in a preheated oven at 170 degrees for 3 hours and let cool and thicken after taking out of oven
What you'll need to make the Guava Sauce
.2 perfectly ripe Guavas
.2 apricots
.1 cup of coconut water
Feel free to add any fruit of your chocice I decided to add Strawberries,Oranges, Mangos,banana slices , kiwis,and Blueberries !
A few Changes and a Kale Salad
Hey guys ! there will be a few minor changes coming to the site. my headline links will be switched around and my recipes and juices will be in a different section on my site . but for now here is this yummy kale salad I made today for lunch mmmmm
Whats To come .
Hey Guys just a little update . I have a lot come to the site that I think you're going to enjoy ! more Recipes , juices and even some video content . Be sure to stay posted on my IG I might be having some Crystal giveaways :)
Whatever arises LOVE that a love revolution begins with you
Matt Kahn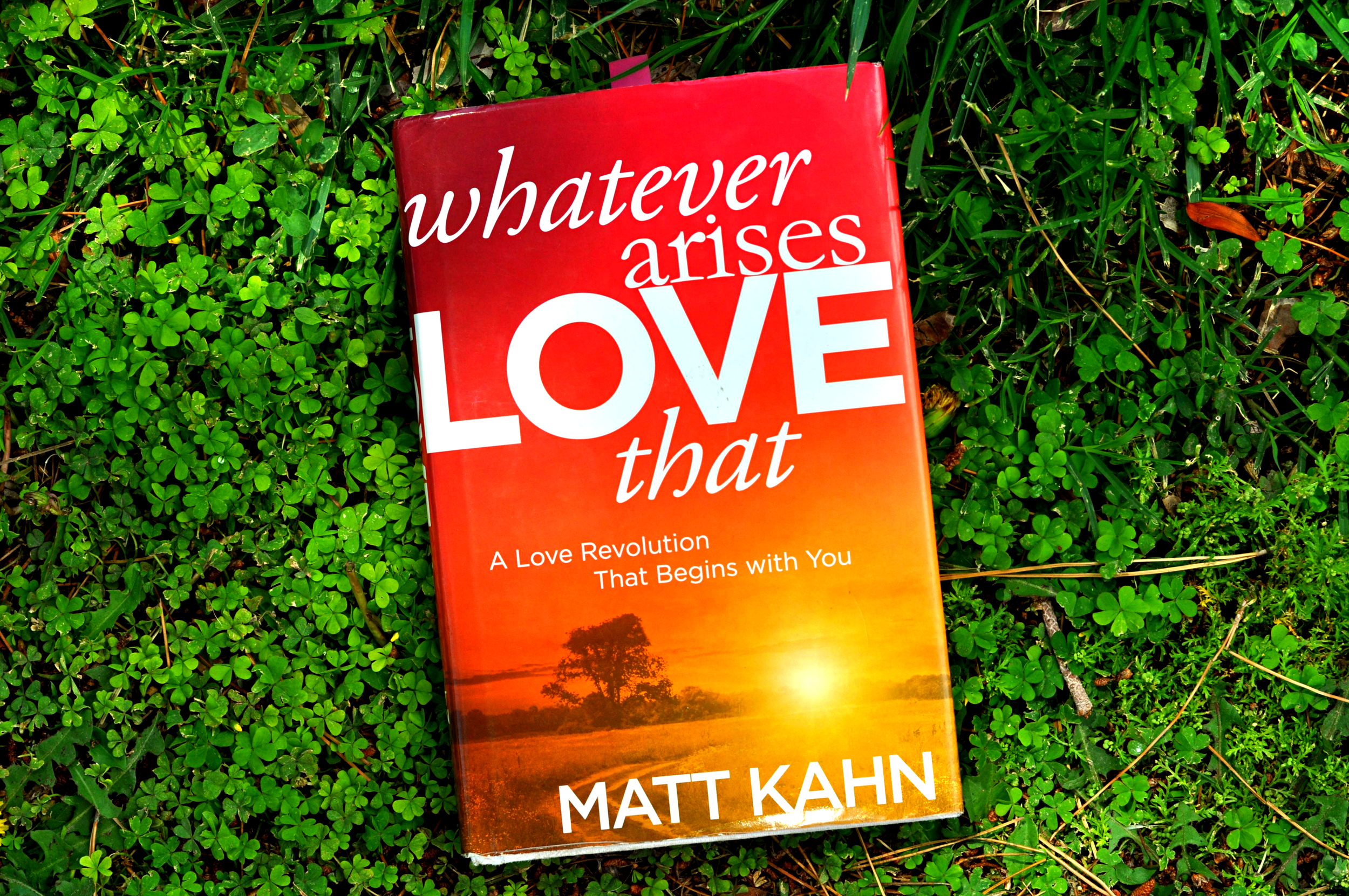 This certain book review has to be one of the most specialist book reviews I've done by far. For a very special reason and a very special author . I do want to inform you guys before dipping into this review to let you know this will probably be my last book review for awhile . Just to take time out to incubate these insights and teaching I've been receiving from these books . I first came across Matt Kahn around the peak of my awakening. His videos were recommended to me by one of my local Reikis out here in Las Vegas. When finally taking the time to fully immerse myself in his videos I never felt so much clarity.... Truly if you've watched his videos you would know his relaxed tone of voice and ability to make you feel you're actually there sitting in the crowd listening to his teaching. Now let me be sure to clarify this I have so much respect for a lot of spiritual teachers and other highly attuned light beings but I've never truly connected with no one other than Matt. So When browsing in a book shop and there seeing in bold....... LOVE! I was intrigued and panicked in total teenage screaming girl moment when reading who the book was written by.
The journey with this book has been a complete Liberation from the ego. Now If you follow my instagram you're probably questioning why I'm doing this book review so late after seeing when I purchased it. Well due to a lack of sleep ending my trip in LAI realized I completely had forgotten all my Books, Crystals, and Headphones behind . Leaving me in a big set back on just getting the book back in my hands to get back in tuned into the frequency of the book . but with a couple quite days to myself I was able to finish the book with A LOT to say !
The book was such a breeze to read and I often caught myself putting the book down during chapters and sitting in silence with what I was attaining and each time I envisioned Matt's voice as if he were reading the book to me which gave me the ability to resonate with the book on a deep intuitive level . through the book you will see how Matt continues his heart centered teachings but giving you more in depth insight and practices . but over all my favorite attribute about this book would have to be the consistent mantras Matt offers you throughout your day to day . You also get to explore the 4 Inflammations of the Ego which are Righteous inflammation ,skepticism ,victimized inflammation and entitled inflammation . through this book I have grown to see the innocence in not only myself but in others . I caught myself putting tabs in so many parts of the book to carry around as a reminder . if you enjoy browsing book shops you should definitely keep an eye out for this orange beauty of a book . to assist in releasing conditioned debris and freeing of the ego .
Love and Light
FREQUENCY : The Power of personal vibration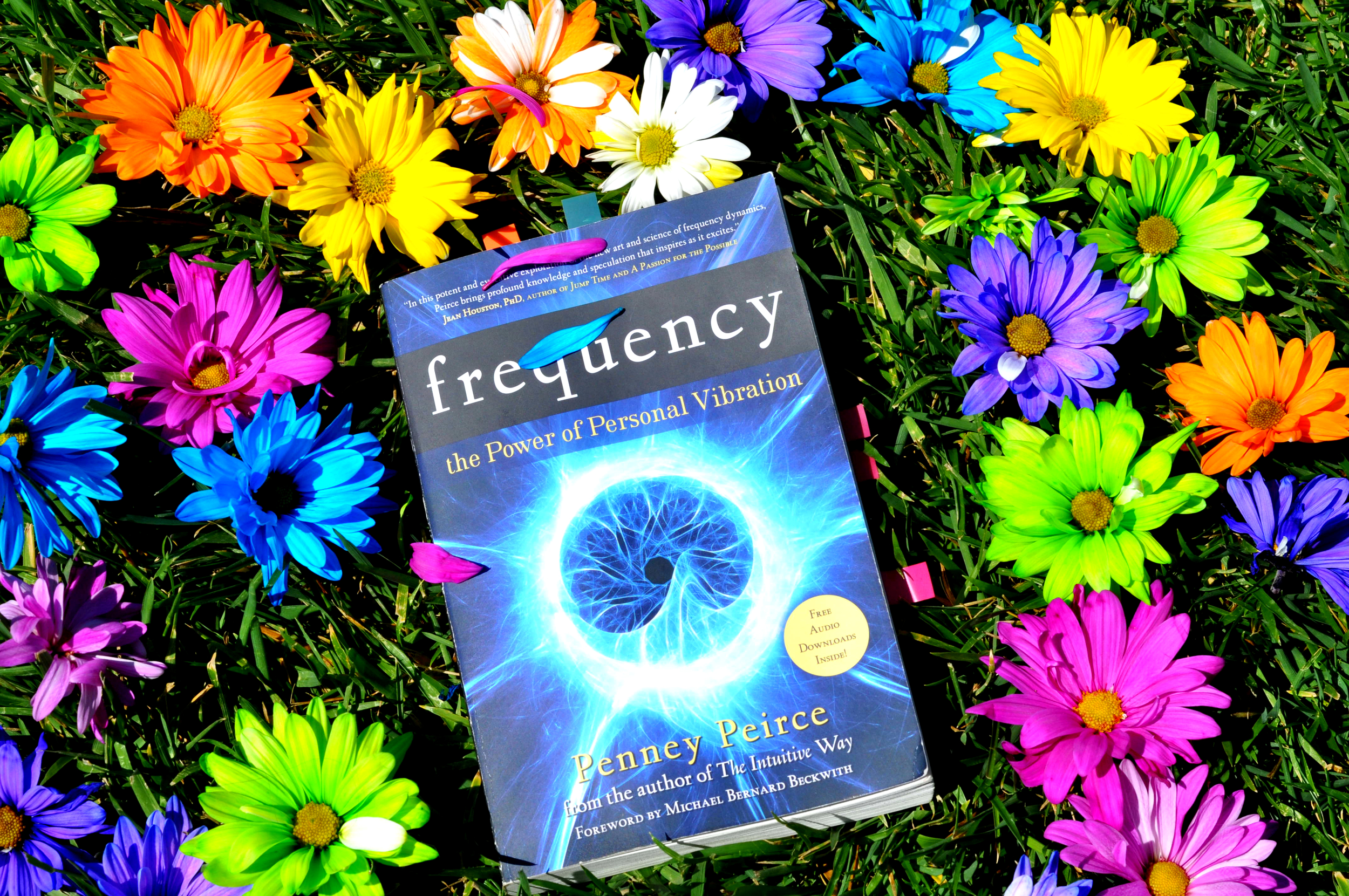 The Books I read seem to always surface on my consciousness . Almost as if the book is choosing me rather than me choosing the book. Prior to reading this I had no idea the book even existed. So a Quick trip to the book store was needed . So while I was in the book store I was in between two Osho books not exactly sure which one I would purchase . Stuck for a couple moments reading each preface of each book . I look up and see " FREQUENCY" almost as if the book were in bold text , Fascinated I put one of my osho options down . Still I wasn't convinced and decided to put frequency down and grab my osho book . Crazy as it may sound walking up to the clerk to check out I seen another copy of Frequency . I instantly knew this was the universal language speaking to and through me . So confidently I put osho down and proceeded to check out with Penny Peirce's Frequency .
The Experience of the book has been quite liberating. The book has a good balance of science and spirituality . Where she talks about The Electromagnetic spectrum , Brain waves ( Beta, Alpha,Theta,And Delta) but also gives you what you need to quench your spiritual thirst like Home Frequencies , Vibrational sensitivity and self healing for the collective . the greatest attribute about this book is Penny has you document your transformation in your own personal journal . Which I find to be even more transformable and is more of a direct manifestation .
I found myself applying these strategies to my day to day life. For instance , The other day was a Gloomy rainy day which had me in the best mood ! So I decided to walk to the store and buy some headphones for a bianural beat session and usually its really hard for me to go into stores because I have always been such an ultra sensitive being and too many energies in one building has me really anxious and all over the place. but before going in I decided that " this experience was going to be awesome and that whatever arises I was willing to accept it and go with the flow . Seemingly it was actually a pretty awesome experience, I had an awesome conversation with the clerk and gave her complete eye contact which I could see was brightening up her day , Walking out I couldn't stop smiling! there was a burst of energy within me that I never wanted to let go . Strangely though while walking out a man walks up to me ranting about how "the government is doing experiments on children to see how long they will live" and got back into his car and drove off. For a second I felt a sense of fear creep on me and instead of resisting I sat and felt into this energy that I knew wasn't mine. It was clear as day after that I started to see the ultimate message within this whole experience my soul was giving me options of how I wanted to live my life . In Oneness at such a high vibration or fear in a dense low vibration . the answer was quite simple and I relaxed my body and centered myself back into my home Frequency .
I find it quite silly how so many spiritual people believe they have to be positive 100% of the time or something is wrong with them. And this can really be self damaging on the subtle energy body . Simply understanding duality and knowing you cant have one without the other can shift your perspective 360. With that said if you do ever feel fear , sadness, anger or depression . don't resist it and tell yourself you shouldn't be feeling this way but rather sit and feel into the emotion , see how it makes your body feel , what are the sensations ? what chakra is this emotion resonating with and choose what solution will serve your highest self of evolution . this little understanding is what I've resonated with the most in the book and will continue to use this understanding to every aspect of my life . this book has definitely been a game-changer for me and my personal evolution as a light being . If you have the chance you should definitely snag a copy.
Love and Light
LIVING IN THE MOMENT
The Alchemist : Book Review
Although My next book review was interned to be on Matt Kahn's " Whatever arises love that" but I wanted to take a break on philosophy books ( Although THE ALCHEMIST is a Fictional Philosophy Book) To get the opportunity to digest my Last Osho book before jumping into another one of my favorite spiritual teachers . My consciousness was craving a metaphysical novel . So I began to tell my friends about my mission to find the perfect spiritual novel and surprisingly each one I encountered suggested the Alchemist. Intrigued but not completely sold . I considered the book in my subconscious . but seemingly the book began to appear everywhere! from looking online to talking to friends, Even brief conversations with the cashier clerk at the bookstore . each one of them seemed to have some sort of amazing experience with this book .
I had no Idea what this book was about but all I knew was I had to get my hands on this book! The book is a very easy read I couldn't put it down so it only took me about a day to read . The Book is by an author named Paulo Coelho , who actually wrote the book quite some time ago but didn't seem to catch any attention at first . I believe I read he was even dropped from his publishers because they felt the book was a Flop ..... it was looking like it was the end to The Alchemist but within some interesting experiences which I think deeply relate to the story itself the book became a Milestone of the century .
The Story starts out of a young Sheppard who loved to travel and take care of his herd of sheep. but one vivid dream that appears twice has him seeking for in-depth answers of what the dream meant. Which leads him to comes across a palm reader who tells him to go to the pyramids of Giza for his treasure ! which brings him to a chain reaction of events that I wont get too in-depth about because I don't want to spoil the story aha .The story talks about personal legends, oneness, omens , kings, Alchemy and personal Transformation .... hence , exactly what I needed out of a novel . I definitely feel inspired to start my own journey to my personal Legend and follow and listen to my heart. I hope this book sends courage, Clarity and Confidence to your own Personal Legend .
Love And Light xoxo
OSHO's Chakra Book : Book Review
My absence has been pretty damn apparent on my site, for the past few months I've done a lot of inner work. See through our life's I feel we get so caught up in society or in others that we never really sit and look within ourselves. This Chakra book has definitely been a self-revelation journey for myself and the collective. This book gets really in depth with the understanding of the chakras. When I say this I don't just mean the basic western understanding of the chakra like the "Base chakra, the heart chakra, the crown chakra etc . Reading this book I came to know the true essence of the Muladhar , the Suadhisthan , the manipura , the anahata , the vishuddah , the Agaya and the ultimate the 1,000 Lotus flower petal . Osho Continues to call out religions for their lack of individuality they expect you follow the same exact footsteps of the people they believe to be holy . This continues to be a problem for humanity because technically you're not living an authentic life but rather the path of lives lived by others . He also gives you multiple different philosophies on the chakras from Yoga to tantra sheshhh even polarity balancing .giving multiple different outlets to resonate with. Reading this book I have completely misidentified with my physical body . I know I am more than this physical form and that through my journey with mastering my chakras I can come to the ultimate..... my natural buddah state which lies with the Sahasra and is embodied in all of us . A lot of westerners believe they can jump through chakras and master each and every one of them and this remains to be a false analogy. See energy moves Upward and inward not outward and downward we refer the this rising of the energy as urdhvaretas or also known as the Kundalini . I will be making another post soon with more insights on the Chakras. But in the mean time I definitely suggest all my book worms to get their hands on a copy of this book!
OSHO's Intuition : Book Review
What an amazing journey it's been with this book . Although I read it within a week or so the pure blissfulness it was to experience each page ! I didn't know what I liked more about it the raw truth he brought to the book or the spontaneous exercises he gives you throughout the book . The book highlights on why living intuitively is the way to living a galactic adventure of a life within each moment of your life . I have to say this book definitely cleared up a lot for me . I feel as spiritual beings we crave knowledge so much ! it quenches our spiritual thirst and We thrive off the belief that all this knowledge will lead the the ultimate answer "What is our purpose , Who Are we , Why are we here ?" what this book taught me is that you can only use the mind as a servant not a master . That intellect destroys everything ! including out natural intuitive state . see what osho is saying is that Knowing doesn't mean its truth .... and this resonated with me during the whole journey of the book because I'm definitely guilty in reading , searching , looking , finding for knowledge , answers , and reasons and what I've realized is when I found those answers it only lead to more in depth questions which lead into more answers and continuing into more questions . when I reflected on this I seen that this was definitely not living in the moment ! After reading this book I definitely feel my awareness has expanded ! I see the beauty in the little things that are unseen through our daily life's . I wake up ,walk in the grass, feel the grass in between my toes while the warm beam of the beginning of the spring sun hit my skin . I hear the morning baby birds cheeping to their mothers for food . These small things we seem to always neglect because we're to focused on the past , the future but never withing the moment ! I highly suggest you guys check this book out
Love and Light !
How to program your crystals
Programming your crystals is very benificial to you and your crystals relationship . Programming your crystals is a very simple taskthat will take no more than 5-10 minutes . I find myself doing it for many reasons . For Example each week I pick once crystal to work with while sleeping to see the diffrence in my sleep and dreams . I also Program my crystals before starting my day . Programming your crysals is simply based on your intention . What you want to manifest while working with the stone of your choice , and what you want to learn during the process of working with them . I always find an increase of energy after bringing my crystals in from resting under the full moon and then programming it by setting my intentions into each and everyone .
How To Program your crystal : There are many ways to program your crystals but the most benifical I've expericend on my journey with crystals is placing your crystal inbetween your hands without your habd touching and begining to connect with the energy of the crystal . After doing so I always imagine white light beaming on my Crown chakra flowing completley through my body . continuing set your intention into the crystal and what I want to manifest while working with it .
Programming your crystal with a partner : This is absoulutley my favorite way to programcrystals . twice as much intent and twice as much loving energy . I have to say there has to be something almost romatic about do so with a love one . this is very simple all you will need to do is set the crystal of your choice inbetween you and your partners heart charkra and begin to hug them tight;y sending love and light completley into their whole being , begin to feel the warmth inbetween the two of you and set your intentions into the crystal this is very powerful when doing this with Rose Quartz.
So go head and give it a try this week and see if you see a diffrence in your crystals energy :)
If you've followed my Blog for some time you've realized I've always seem to have a hiatus from everything , including my blog . And I guess I can apologize but this time and this time only I refuse . See the past few months LIFE has been extremely well . this break has been great to get to know myself more and more , spiritually of course . I just turned 22 , Have beautiful people full of light in my life and my consciousness has expanded to limits I've never thought was possible . The Good news is I'm back and there wont be a griztriz.blogspot.com anymore instead this will be my sanctuary to catch up with you guys and of course spread some enlightening knowledge . cough cough CRYSTALS .
.What I'm wearing
Represent Black overcoat
Represent Stripe scoop tee
Represent Essential Denim
Shot By: @Nativechild
Represent Storm Bomber
Represent Essential Black Denim
Big Thanks to the Represent Fam for all the support and Love